Rebekah Sherrington — Production Planning Co-ordinator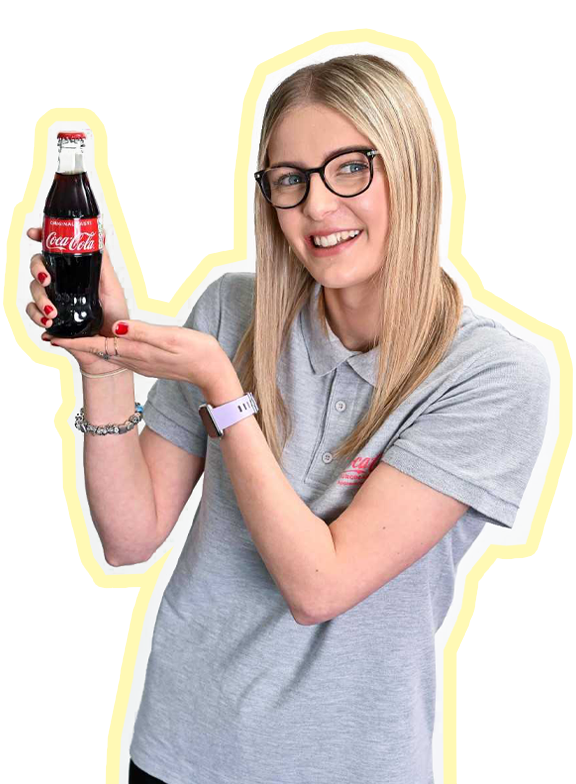 Name:
Rebekah Sherrington
Job title:
Production Planning Co-ordinator
Employer:
Coca-Cola European Partners (CCEP)
Qualification:
Level 3 Business and Administration Qualification (Distinction X 3)
Salary Range:
£25 - £27K (Post Apprenticeship)
What does a Production Planning Co-ordinator do?
I arrange the production priorities we receive from the central team into the best possible sequence across our 7 production lines at Edmonton, based upon customer demand, materials availability and line efficiency. I will then order all of the materials required for this production in line with supplier deadlines, site storage space and line performance.
Describe your job in 20-25 words.
No two days are ever the same in the world of planning! It can be very challenging at times juggling the conflicting priorities.
After you qualified, did it take long to find a job?
I finished my apprenticeship in April 2020 just as Covid hit. Despite this everyone at CCEP was completely supportive in wanting to keep me on, so I was able to extend my contract throughout the lockdowns and got the opportunity to support within the planning department, where I could gain even more experience and practice, so in September 2020 when a planning role became available I was in a great position to apply, which I was fully supported to do so by everyone on site.
How did you end up in this job?
I started my career with CCEP through their apprenticeship programme. I was a Business Administration Apprentice at one of our Manufacturing sites in Edmonton, which meant I got to take part in 5 different placements across site in Distribution, Planning, QESH (Quality, Environment, Safety and Health), Engineering and Manufacturing. During my placement Planning I got an overview of the whole department, I learnt and took over the role as a Production Planning Co-ordinator and worked on an improvement based projected within the team (which I won a site ICON Award for). I loved every minute of my Planning Placement so when my apprenticeship came to an end I applied for the available role on site as the Co-ordinator full time and got the role!
What advice would you give to someone thinking of pursuing this career?
Do it! Expect the unexpected as every day is different and challenging but there are so many aspects of the Supply Chain which all interlink with one another which is fascinating and means you never stop learning.
What's the best thing about your job?
There are so many things that I love about my job. For one the opportunities which are available to us (especially through the apprenticeship scheme) are fantastic for example I have visited HMS Belfast, Madame Tussauds London, Manufacturing Awards and Won CCEP Business Apprentice of the Year all through the apprenticeship programme. The people I get to work with are all so encouraging and have worked for the company for years which means they have so much experience and knowledge which I can learn from. Finally the sense of pride I have when I tell people I work for one of the biggest brands in the world is something I can never say without a smile on my face!
If you had the chance to do it all over again, what would you do the same / differently?
I would definitely do it all over again, I loved every minute of my apprenticeship journey. If I was to do anything differently though it would to try and not be as nervous as I was when I first started.
What was your starting salary?
£14.5K – On the apprenticeship scheme in 2018.
How long have you been doing your job?
I have been working for CCEP for 3 Years now. My Apprenticeship was 18month-2years which I started in September 2018 and I have been in my current role as Production Planning Co-ordinator for 1 year.
Has your salary changed since then – if not do you see salary progression?
Yes there are annual salary reviews each year and also potential to have added bonus'.
Where do you see yourself in five years time?
I would like to still be working for CCEP and progressed to a management role, perhaps as a Team Leader on site or potentially moving outside of my production site to a more central based management role.
If you could give your 16 year old self some career advice, what would it be?
Don't be afraid not to follow the crowd. Believe in yourself and your ability and never turn down an opportunity to learn.