Lewis Wong — Apprentice Multi-Skilled Technician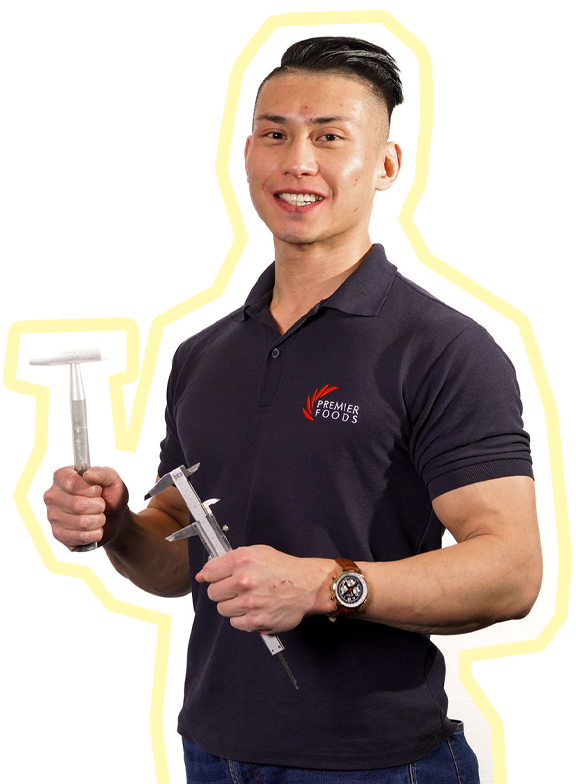 Job title:
Apprentice Multi-Skilled Technician
Qualification:
BSc Sports Biomedicine, MRes Cancer Biology, currently studying towards a Level 3 in Food and Drink Maintenance Engineering
Salary Range:
Starting at £19,000 (year 1) and £47,000 (year 5)
Describe your job in 20-25 words:
A Food and Drink Maintenance Engineer ensures smooth operation, troubleshoots, and repairs food processing and beverage equipment, maintains safety standards, optimises efficiency, and coordinates preventive maintenance to minimise downtime in production facilities.

Give a description of a day in the life of a Food and Drink Maintenance Engineer:
A Food and Drink Maintenance Engineer starts their day by reviewing work orders and scheduled maintenance tasks. They conduct daily equipment inspections, looking for wear, damage, or malfunctions that could impact production. When issues are identified, they troubleshoot, diagnose, and perform repairs or coordinate with specialists.
Throughout the day, they may be called upon to address unexpected breakdowns, working closely with production teams to minimize downtime and maintain safety standards. They also monitor equipment performance and collaborate with other engineers to optimize processes and implement improvements.
Regular communication with management and team members ensures that maintenance activities are aligned with production goals. They also update records, order replacement parts, and maintain inventory for their department.
The engineer's day ends by ensuring all tasks are completed, and documentation is updated, setting priorities for the following day. Continuous learning and staying up to date with industry developments are essential aspects of their role.

What advice would you give to someone thinking of pursuing this career?
Be open-minded, your ears, eyes and brain are your best tools for success. Be curious, ask questions, be a sponge and absorb all the valuable and useful knowledge around you.

What's the best thing about your job?
The best thing is that no two days are ever the same. Every day is different, literally.

If you had the chance to do it all over again, what would you do the same / differently?
Nothing, but my past decisions and experiences have helped to shape the life of the present.

What was your starting salary?
£19,000/year before tax

How long have you been doing your job?
I started my apprenticeship in January 2022.

Has your salary changed since then – if not do you see salary progression?
My salary has improved. I also get a 10% increase in salary each year during the apprenticeship.

If you could give your 16-year-old self some career advice, what would it be?
Explore options that align with your interests, strengths, and passions. Try different things, talk to people from different careers and don't be afraid to think outside the box. Be positive!