Industry Approved Degree Apprenticeships
Tuesday, January 10, 2017 - 11:50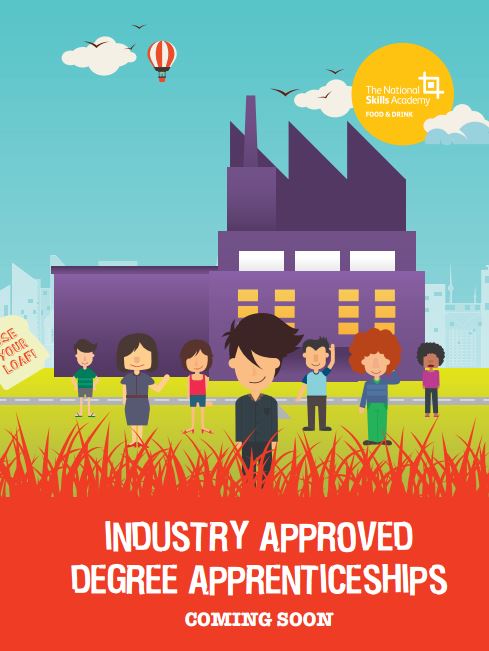 The food and drink industry is dynamic, fast-paced and high-tech – not to mention well paid. If your looking for a rewarding STEM (Science, Technology, Engineering and Maths) based career, which offers the opportunity to gain a degree with no student debt whilst working and learning in this exciting sector, then our degree apprenticeships are for you.
APPRENTICESHIPS UNDER DEVELOPMENT
Food Industry Technical Professional - BSc (Hons) Food Science
You will develop the technical skills and knowledge required to be a leader in Technical & Quality Management or in New Product and Process Development
Food Engineering - BSc (Hons) Food Engineering
You will develop the skills and knowledge required to be a leader in an Engineering role in a sector which is highly automated and offers excellent career opportunities for professional engineers
Food Operations Management - BSc (Hons) Food Operations Management
You will develop the skills and knowledge required to be a leader in an Operations Management role spanning a diverse range of functions which can include factory or supply chain management
APPRENTICESHIPS WILL BE AVAILABLE FROM SEPTEMBER 2017 - SUBJECT TO APPROVAL
ABOUT YOU
If you like being part of a team, having a hands-on role and you enjoy being active at work, these could be the roles for you. But the most important thing is a desire to make a real difference in the industry and to the way products are made.
THE DEGREE APPRENTICESHIPS
Our food & drink degree apprenticeships will be designed and approved by the food and drink industry to give you the specifi c skills, knowledge and experience employers are looking for. So once your qualify, you'll have a solid foundation to take your career as far as you like!
Your training will cover a mix of university and on-the-job learning to ensure your complete your degree apprenticeship with a sought after combination of industry and technical skills - making you a huge asset to your employer from day one.
YOUR STUDIES
Your degree apprenticeship will be delivered by our university partners who are leaders in delivering degrees for the food & drink industry.