Shaun De Souza — Raw Material Buyer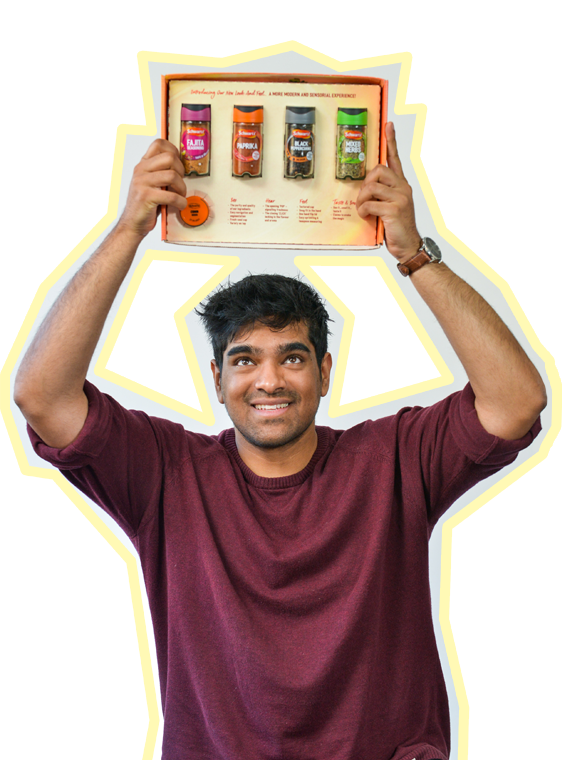 Job title:
Raw Material Buyer (Procurement/Operations Management/Supply Chain Graduate Scheme)
Qualification:
BEng Manufacturing Engineering
What does a RAW MATERIAL BUYER do?
As a raw material buyer, I am responsible for buying a set of ingredients that we use in our factories in Europe, Middle East and Africa (EMEA). I need to ensure our factories always have supply when required in order to keep them producing.
As an overview of what I do: I research, analyse & interpret the market for each of my materials (ingredients). I then develop a strategy and implement it to ensure we are supplied on time, in full, at the required quality and at the best value for McCormick. This may involve identifying new suppliers or working with current ones to deliver this value. For all suppliers, as buyers we negotiate pricing at least once a year for each material. We also de-risk our supply for our most important materials and solve supply related issues.
What's the best thing about your job?
I design my own workload in relation to my goals and responsibilities. I have the freedom and ability to implement my own ideas and innovative solutions. What I do is not the same day to day or week to week, my work is constantly changing which makes every day feel fresh and interesting. I work independently, no one is working on the same materials as me, however, I sit within a larger 'raw material' team and we work together to achieve larger macro goals and support each other in our own roles.
If you had the chance to do it all over again, what would you do the same / differently?
I really enjoyed my manufacturing engineering degree, and it qualified me to apply to all the jobs that I wanted to do after graduating, but it's not the original course I chose. I started on Mechanical Engineering and in the middle of my second year I changed course which meant I had to repeat my second year in my new course. I feel like this mistake was avoidable, I didn't give any serious thought to less mainstream engineering disciplines that would have been a better fit for me. I would also have done a year abroad and learnt a language!
What was your starting salary?
£25-28,000, rising to £30,000+ with a few years of experience
Where do you see yourself in five years time?
I see myself working in procurement managing a small team or being a specialist in a certain area, perhaps abroad.
If you could give your 16 year old self some career advice, what would it be?
Do a degree that you're passionate about learning, and for the ones you're interested in have a look at the modules that will and can be taught and ask yourself if that is what you want to learn, degree titles can be quite broad and may not offer what you wanted to learn.
When choosing don't be intimidated by graduate employment rates and starting salaries. There are so many ways to add value to what you can offer an employer on top of your degree, for example: get a part time job/internship/year in industry, learn a language, be involved in leading a society/club/sports team, etc…