Amelia Cockran — Mechanical and Electrical Engineering Apprentice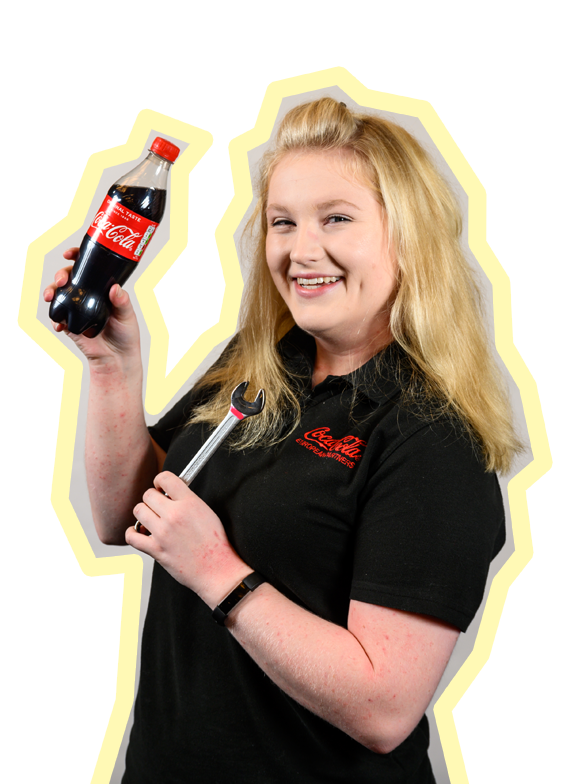 Job title:
Mechanical and Electrical Engineering Apprentice
Employer:
Coca-Cola European Partners (CCEP)
Qualification:
Level 3 BTEC in Electrical Engineering Manufacturong and HNC in Electronics
Salary Range:
£16,000 starting salary
What does and Engineering Apprentice do?
As an Engineering Apprentice no two days are the same. One day I could be up a 140- metre crane re-stacking a pallet and the next I could be responding to a breakdown on the production lines. Part of my job is that I repair, improve and maintain our production lines and warehouse so that every customer gets their Coca-Cola beverage.
What advice would you give someone thinking of pursuing this career?
The advice that I would give is to work hard at your studies and make sure you have a passion for your chosen field so that you aspire to have a job that you love. An Engineer has to be able to problem solve, work well as a team and have a mechanical and electrical aptitude, if you have these then you will make a brilliant Engineer!
What is the starting salary / How has it changed since?
My starting salary was £16,000 and I receive a pay rise every year throughout my apprenticeship and further employment within Coca-Cola European Partners.
How long have you been doing your job?
I started my job in September 2018 so have just been working in my current role at CCEP for just over a year.
Where do you seen yourself in 5 years?
In 5 years, I see myself as an Electrical/Mechanical Technician on shift working on the times and in our automated warehouse. I would be responding to breakdowns and improving the systems within CCEP to meet customer demand. After that I would like to get into management with the end goal.