Jordan Brosnan — Engineering Maintenance Technician (Electrical Bias)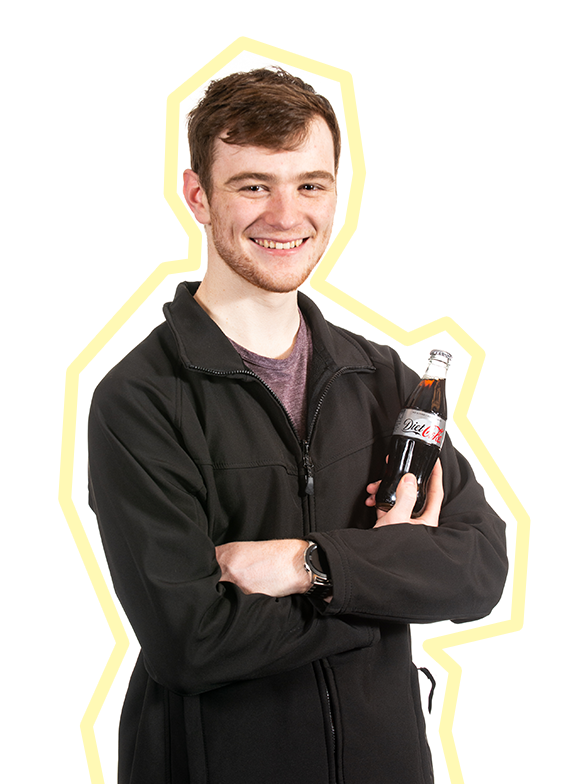 Job title:
Engineering Maintenance Technician (Electrical Bias)
Employer:
Coca-Cola European Partners (CCEP)
Qualification:
Level 2 NVQ (Electrical), Level 2 NVQ (Mechanical), NVQ Level 3 (Engineered Maintenance), BTEC Level 3 (Electrical Engineering), Level 5 Foundation Degree (Electrical and Electronic Engineering), Honours Degree in Engineering Management
Salary Range:
£40,000 post apprenticeship
What does an engineering technician do?
Plan and execute maintenance on the production line to ensure its continuously productive.
Plan projects in order to increase the production efficiency and make the operator's jobs easier.
After you qualified, did it take long to find a job?
I started my apprenticeship at 19 and stayed with the company I studied my apprenticeship with, therefore no gap in employment.
How did you end up in this job?
I started as an engineering apprentice in 2015 and progressed internally.
What advice would you give to someone thinking of pursuing this career?
If you have an interest in problem solving, engineering is for you! It can be a fantastic job with great rewards.
What's the best thing about your job?
I am able to learn about any area of the factory in order to progress my career how I see fit. There is a lot of room for development.
If you had the chance to do it all over again, what would you do the same / differently?
I would spend more time learning about other aspects of the factory. Although it is still possible now in the job that I am in, it is more difficult because of the responsibility I now hold. During my apprenticeship, I had an abundance of time to learn whatever I wanted and I feel that it would have been beneficial to spend more time learning about other processes, such as QESH, distribution, team leading etc.
During my apprenticeship, I spent a lot of time working in automation engineering, which is heavily involved in the software which actually makes the machines work. I would do this again if I had the chance to go back because I really feel I now understand how the machines work because of this experience working with the internal workings of the machines.
Has your salary changed since you started?
My Salary has multiplied by 3 since starting as an apprentice 4 years ago. I expect it will continue to climb as my career continues to grow within the business.
Where do you see yourself in five years' time?
In 5 years' time, I see myself in a team leader role within another site in CCEP.
If you could give your 16 year old self some career advice, what would it be?
Stay on at college and do A-levels first. No rush to get a job immediately and A-levels will set you up with a breadth of knowledge before going into an apprenticeship.
Did you buy something special with your first pay cheque?
My fiancé was pregnant with twins when I had my previous job as a production operative and was still pregnant when I started my apprenticeship. I don't remember it well, but I probably bought car seats or cots or something for the kids!