Kodi Gledhill — Engineering Apprentice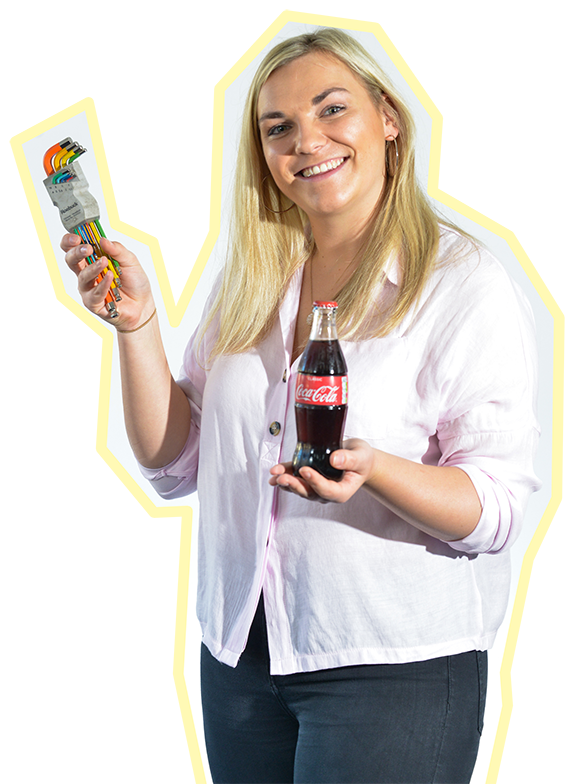 Job title:
Engineering Apprentice
Employer:
Coca-Cola European Partners (CCEP)
Qualification:
11 GCSE'S A*-C, Level 2 Mechanical Diploma, Level 2 Electrical Diploma, Level 2 Fabrication and Welding Diploma, Level 3 BTEC Electrical Engineering, HNC in Electrical/Electronic Engineering, Currently studying for Level 3 NVQ Electrical Engineering
What does an Engineering Apprentice do?
As an engineering apprentice, it is my job to work with engineers at our Wakefield Site, which is the largest in Europe, and the size of 16 football pitches, to fix any machine that has broken down and introduce new projects which could prevent breakdowns in the future. I also have to ensure that the lines are running efficiently and effectively to meet demands and make sure everyone has enough Coca-Cola to drink in any weather!
How did you end up in this job?
Before starting my apprenticeship, I had a part-time job which I loved. However, I also enjoyed studying and gaining qualifications, so I thought an apprenticeship would be the perfect way to combine learning and working full time. I then looked online to see what opportunities were available, and I came across the apprenticeship at Coca-Cola European Partners, for me, applying was a no-brainer!
What's the best thing about your job?
The best part about my job is that I get to work with experienced engineers and absorb their skills, which makes me a better engineer.
It's also a very proud moment when you see Coca-Cola on the shelves in shops, and you tell your friends that you were involved in making it!
If you had the chance to do it all over again, what would you do the same / differently?
If I had the chance to do everything again, I'd tell myself not to worry about choosing a different career route to my friends. I would let myself know that it's important to pick a job that will challenge and engage you every day and that taking the engineering apprenticeship has been the best decision I've ever made.
Where do you see yourself in five years' time?
In five years' time, I still want to be working for Coca-Cola European Partners. However, I would want to travel to sites across Europe and implement projects, as well as to learn how other engineers work so that I can keep developing my career.