Mark White — Eden - Dairy Technologist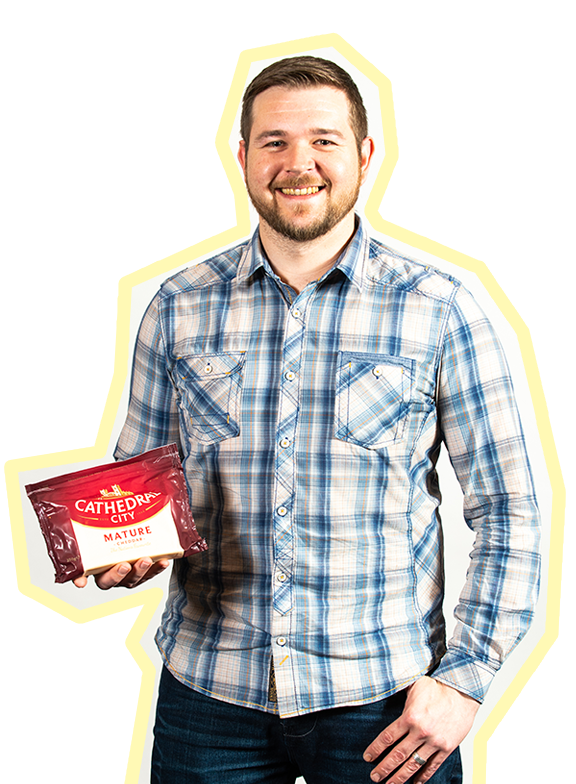 Job title:
Eden - Dairy Technologist
Employer:
Saputo Dairy UK
Qualification:
9 GCSE's, currently working towards a Level 5 Dairy Technologist degree.
Salary Range:
£16,000 to £23,000 per annum
What does an Eden Dairy Technologist
An Eden Dairy Technologist is an apprenticeship position, so the majority of work I am involved in is focused on learning and development. I spend a third of the year across two blocks at Reaseheath College studying food science and dairy technology which will continue for three years to complete my degree. While back on site I might be taking part in projects that tie in with the modules I am studying, shadowing people who have the skills I want to develop, or learning more about the production process of the various dairy products we make.
Describe your job in 20-25 words.
Each day brings fresh challenges, pushing me to adapt my approach and improve my knowledge of whatever I am taking part in.
How did you end up in this job?
I used to be a manager in a well-known chain of coffee shops, and while I enjoyed the management role I was far more passionate about the quality of products we made. If my career progressed I would have been pulled further away from involvement in that area, so I began looking for jobs in food production. I found that salaries in the food industry were very competitive, and started work as a cheesemaker. I stayed in that role for around 2 years, and then moved on to the Eden apprentice role I am in now.
What advice would you give to someone thinking of pursuing this career?
This is a great way to start your career. Your development will be driven by what YOU want to do, and will open paths of progression to almost anywhere you'd like to go in the industry. Know what you're passionate about and what you want to achieve.
If you had the chance to do it all over again, what would you do the same / differently?
The only thing I'd do differently is learn what I love to do much sooner, and work towards the career path I am on now much earlier in life.